Jahrzehntelange Erfahrung & moderne Technologien für die Herausforderungen der Zukunft
By acquiring the extensive expertise of the toolmaking division of the former Rohrer Werkzeug und Maschinenbau AG, and not least the skill and experience of 30 qualified specialists, we are well equipped to tackle the future challenges and requirements of our market. It is for good reason that we elected to make "Rohrer" part of our new name. The inclusion of "Tools" not only reflects our unwavering commitment to our roots but also highlights the core focus of our future endeavours:
The development, manufacture and servicing of high-precision tooling systems for use in plastic and aluminium film systems.
In recognising the importance of the products that we manufacture and maintain as well as the resulting trust that we enjoy from our customers, we are committed to:
An efficient organisation with short decision paths and responsible, experienced employees provide an ideal foundation for us to achieve our exacting standards.
1'800 qm Produktion und Montage
davon 300 qm für QS und R&D
Quality and R&D expertise
Dr. Carsten Lautz
General Manager
Georg Disch
General Manager
Jürgen Nick
R&D and Quality
Stefan Philipp
Project Management
Diego Grütter
After Sales Manager
Rohrer Tools AG supplies all leading manufacturers of thermoform and vertical form, fill and seal packaging machines and our products can be found all across the globe. In addition to all well-known milk producers, companies from the coffee, confectionery, healthcare, baby and infant food sectors as well as the pharmaceutical industry rely on cutting-edge technology from Möhlin, Switzerland. Products assembled with Rohrer tools are displayed on the shelves of supermarkets the world over.
As a strategic partner to global businesses, Rohrer Tools AG assists in the development of tool systems for modern, eco-friendly films. We thus make an essential contribution to the creation of sustainable packaging solutions with a lower environmental impact.
An ihrem attraktiven Standort im Gewerbepark Bata bietet die Rohrer Tools AG überdurchschnittlich gute Rahmenbedingungen und eine moderne Infrastruktur an jedem Arbeitsplatz. Darüber hinaus pflegen wir konsequent ein wertschätzendes Arbeitsumfeld und befähigen somit unsere Mitarbeiter, die besten Leistungen zu erbringen. Neben der notwendigen fachlichen Qualifikation und beruflichen Erfahrung legen wir ebenso grossen Wert auf eine gefestigte Persönlichkeit und Teamfähigkeit.
offene Stelle: Monteur Werkzeugbau

Plug-and-Play for Packaging Lines
Rohrer Tools designs and produces customized complete modules for demanding FFS packaging lines. After a successfully passed FAT, 3 modules for the processes "cold forming", "heat sealing", and "cutting" could be delivered to a renowned pharmaceutical company.
The cores of all modules are the process-determining tools - these guarantee reproducible and safe processes with maximum service life thanks to their solid design and high-precision production.
Vertical pouch packaging lines can also be equipped with our sealing and punching modules.
All modules combine highest precision with minimum installation space.
Starting with the concept phase, our technicians work closely together with those of our clients - with the aim of efficient project implementation.
Highlights
good price-performance ratio
fast project realization
customer-specific implementation
highest quality standard

       Complete Module "Forming"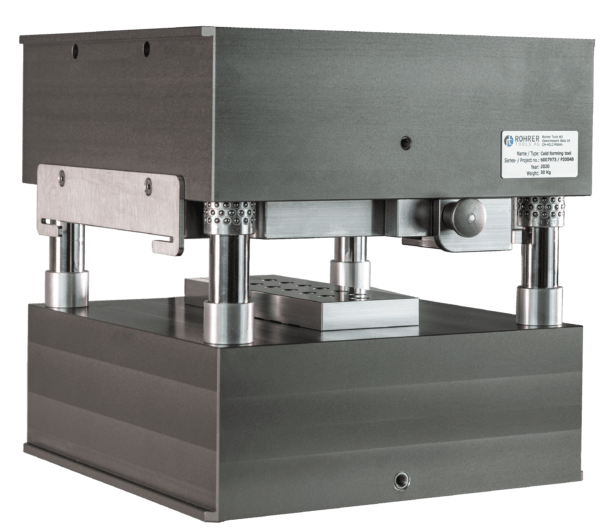 Cassette Tool    "Forming"

Contour cutting cassette system with integrated drive
Rohrer Tools AG has developed this 10-up cutting system for one of the world's largest confectionery companies. As an integral part of a packaging line, it will be able to assemble 30,000 units of a new product per hour
The cutting tool has been individually adapted to the complex film system to avoid angle hairs and maximize service life
To meet the high performance require-ments, appropriately designed drive modules were selected for the basic structure and for the suction cup support
In addition, a self-contained, high-pre-cision basic structure ensures that the sensitive cutting elements of the cassette tool are subjected to minimal stress despite the narrow cutting clearance
Angespasste Sauger-Elemente stellen die sichere Ausbringung der komplexen Produkte sicher.
Thanks to the proven cassette technology, it takes less than 60 minutes to change the punching cassette - without a separate hoist
Highlights
high-precision construction with honed guide elements
cutting elements with µm-accurate cutting clearance, made of
specially hardened powder metallurgical steel
cutting geometry optimized for the customer's film system
precision-guided cassettes for easy change